You are here
Thailand recruitment insights: high tech push attracts Thai professionals abroad
Growing at the rate of just 3.3% over the last decade, 2005 – 2015 has been a period of slow growth for the Thai economy, following nearly four decades of impressive economic growth at 7.7%. This slowdown means that other middle-income countries have caught up with Thailand, while more advanced economies have surged even further ahead in technological readiness, higher education, innovation, financial market development and business sophistication.
To combat this loss of competitiveness, the Thai government has been investing in a number of mega infrastructure projects to kick-start Thailand's economy. These include a focus on 10 industries as new engines of growth (or "S-curve industries") and investing in the Eastern Economic Corridor (EEC) Development Project.
However, to achieve the economic transformation Thailand has been aspiring for, the workforce will need to keep up. What does this mean for the employment market and job-seekers? Our recruitment consultant, Wipawat Panutyothin shares his insights.
What is your recruitment experience and which industries do you specialise in?
I started my career in recruitment with Michael Page Thailand after working as a business analyst at an oil & gas company. My first-hand experience and insights of the industry has helped me to design recruitment solutions for companies in the chemical, packaging, manufacturing and production space. In addition, I specialise in the placement of skilled Thai specialists in the finance and accounting fields across mid to senior-level management.
Could you share some perspectives on the recruitment market?
The Thai government is pouring a huge amount of investment into the development of the Eastern Economic Corridor (EEC). With the EEC, Thailand hopes to develop its eastern provinces into a leading ASEAN economic zone. This will most likely lead to a demand of Thai professionals across numerous functions and industries.
This is further complemented by the government's push towards an industry 4.0 strategy. The government aims to drive the growth of businesses across a number of industries, including e-commerce, bio-tech, digital, robotics, IoT, and software development amongst many others.
Many MNCs have been trying to hire local Thai professionals to support business growth. In some cases, they have also started replacing expatriate hires with local Thai nationals. This trend is particularly prevalent in the top level management hires.
What is the recruitment outlook for the next 1-2 years?
Hefty government investment in infrastructure will likely lead to an influx of foreign MNCs looking to launch their operations locally. This will lead to an increase in hiring activity.
With a mixture of public and foreign direct investment pouring in, there is going to be a need for finance professionals with hands-on experience and a strong knowledge of local tax and compliance regulations to navigate the new tax laws and tax exemptions in line with the development of the EEC. MNCs in Thailand are looking for skilled finance business partners with local and international market exposure.
How can an employer locate talents that are the right fit for their organisation in this talent short market?
A professional recruitment agency can help to add value to businesses in Thailand. Given the complex recruitment landscape, employers in Thailand have to invest a lot of money to build their own in-house recruitment team and it will take them some time before they see the return on their investment.
In many cases, business growth outstrips their in-house capabilities and they are not able to hire fast enough. Working with a professional recruitment agency can benefit the organisation as they are able to help develop a candidate sourcing strategy and bring value to employers. Michael Page Thailand has decades of experience and a global network of candidates that can help companies recruit with speed and quality.
Do you think that the recruitment agency might change in years to come?
Technology now plays an important role in the recruitment industry. Professional networking sites, job boards and online applicant systems have revolutionized recruitment, changing how employers and recruiters find potential candidates. I do not see technology as a threat to the recruitment business; rather, it has aided in our quality of service.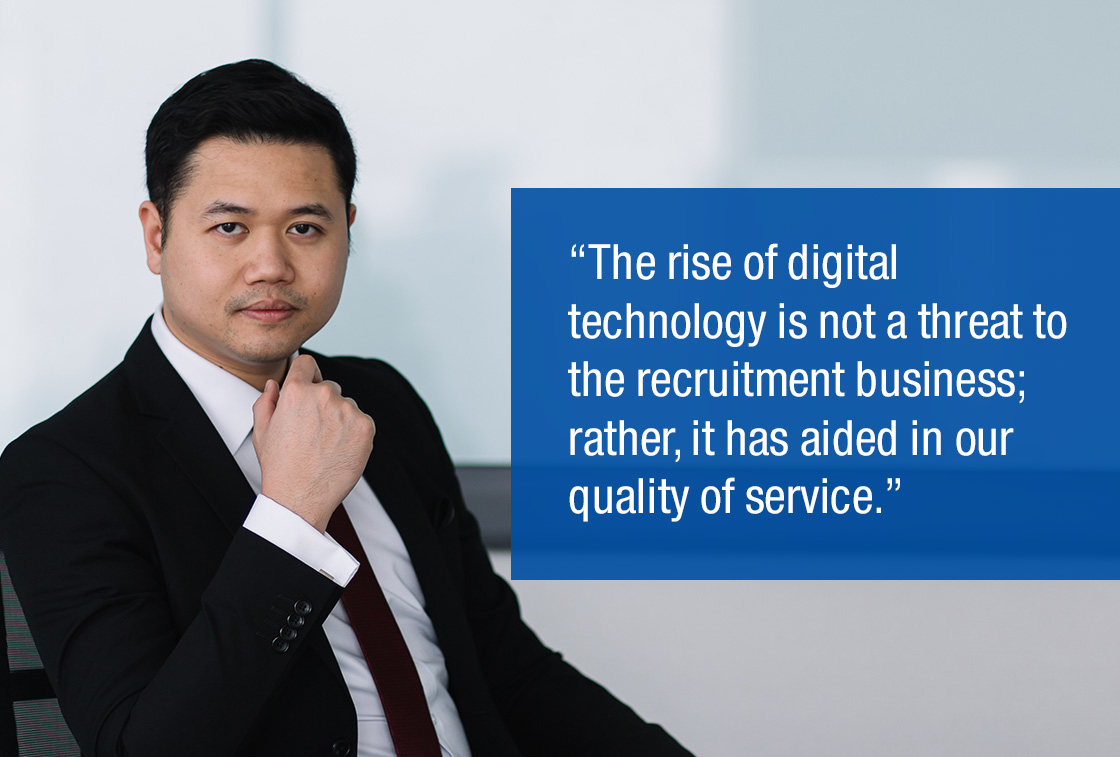 Any interesting candidate experiences to share?
I recently helped to place a Thai national for a CFO role. He was initially based in Singapore and worked with a large FMCG company. He was subsequently looking to return back to Thailand. This candidate is a good example of one of the many Thai professionals working aboard who would like to return back to their home country.
An increasing number of international companies are looking to hire Thais over expatriates. I have been working to bring Thai professionals working across APAC, North America and Europe back home to boost the talent pool in Thailand.
Do Returnees bring skill sets with them that are advantageous in the workplace?
Returnees are usually placed for top management roles. Having worked abroad, they bring along an arsenal of skills, a global perspective and an international management style. They could serve as a change agent in the workplace, and help make the workforce more competitive.
What are returning Thais looking for in their prospective employer?
Most of them are looking for opportunities at MNCs. In terms of roles, senior-level management positions both at a country and regional level would attract them. In some cases, they prefer companies with a regional headquarters in Thailand. These opportunities would allow them to thrive at work while being close to their family.
Whether you're a professional looking to return home or an employer sourcing for talent, Michael Page has a solution for all of your recruitment and employment needs. Reach out to one of our recruitment consultants today to learn more about our solutions.