You are here
Thailand recruitment insights: the future of the Thai workforce
Thailand 4.0 is a plan launched by the Thai government which aims to transform Thailand into a high-income nation by promoting innovation and advanced industries. To achieve this, the government has identified areas that will propel its development agenda forward, with robotics and digital technologies among the new areas identified to lead the charge.
Traditionally, Thailand has a strong manufacturing industry, making it a prime target for technology such as automation and robotics. With such technology promising greater production efficiency at lower costs, more and more firms are beginning to integrate them into their production lines, which leads to a demand for skilled workers that can manage industrial robots and automated systems.
Equipping the workforce with these skills is the Thai government's top priority. How should companies respond to these policies put forth by the government? Employers will not only need to upgrade and re-skill current employees but start recruiting for industry 4.0 and engage in strategic workforce planning to prepare for industry shifts. Our Associate Manager, Sonia Fernandez shares her thoughts on what employers can expect.
What is your recruitment experience and which industries do you specialise in?
I specialise in the recruitment of technical professionals across Thailand. This includes candidates in engineering and manufacturing as well as procurement and supply chain.
Could you share some perspectives on the recruitment market?
Thailand remains one of the strongest manufacturing bases in the ASEAN region. Driven by Thailand 4.0 and foreign direct investment, there has been a high demand for technical candidates by MNCs who are looking to launch operations locally or replace expatriate hires.
However, there is a limited availability of such candidates; making for a very competitive recruitment market. Currently, there is a shortage of Thais with appropriate communication and leadership skills, and a large proportion of the workforce needs to develop these capacities which are necessary to perform at the top levels of large companies.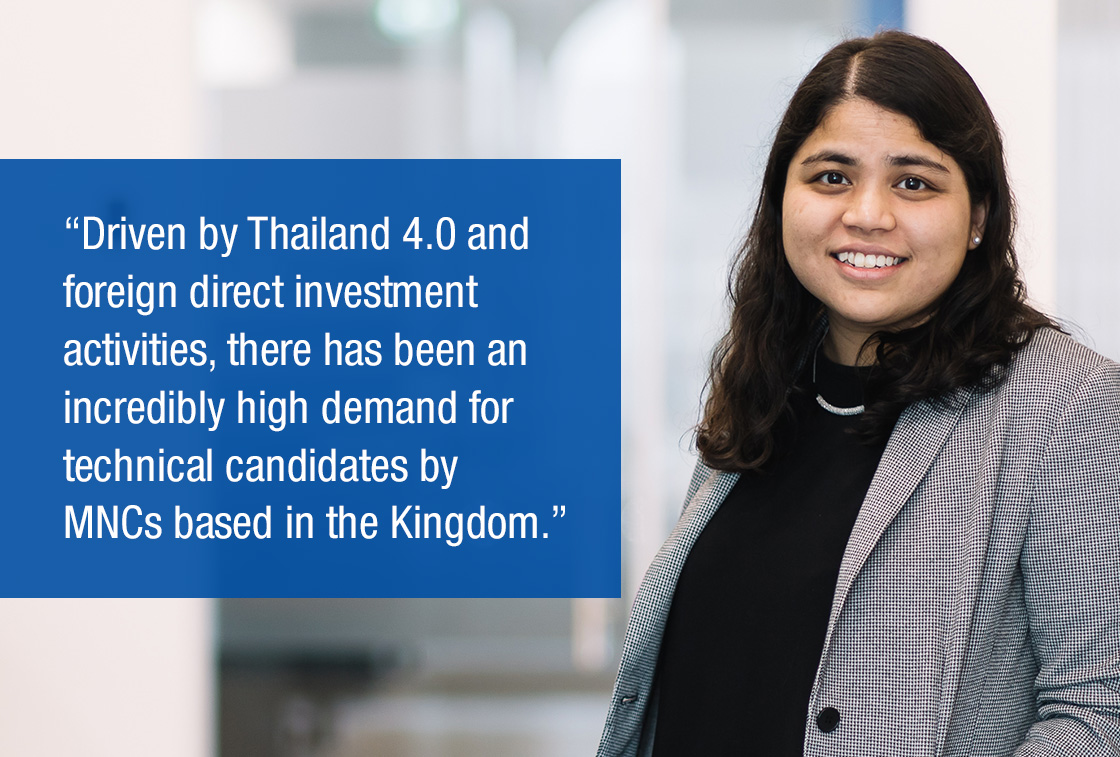 How can companies prepare for the changes Thailand 4.0 brings?
We will start to see new roles being established to support the Thailand 4.0 vision. Additionally, there will be changes to how certain types of jobs are structured as companies adopt new work and organisation models. For example, regulation will need to be revised to enable use of technology for work and innovation.
Organisations will be inclined to hire robotics engineers and continuous improvement/project leads, as manufacturing lines are automated over time with a stronger focus on driving cost-effective, world-class manufacturing processes. There will also be a need for companies in sunset or labour intensive industries to project the skills/ capabilities needed to retain and re-skill the current workforce to keep pace with technology. Employees will need to be trained across a broader set of skills to perform a variety of tasks.
Procurement and supply chain on the other hand, will continue to be pushed to the forefront of the company and will play a more integral role in shaping business strategies.
How can an employer locate talents that are the right fit for their organisation in this talent short market?
To be able to secure the best talent, organisations should conduct a pre-emptive, detailed, market mapping exercise to understand who is available in the market. They will also need to track candidates' progression and movement, so they are better equipped to understand the availability of candidates when vacancies arise. In addition, they should recruit for industry 4.0. That is, to focus on capability instead of degree and qualification, looking for skills such as learning agility, creativity and adaptability.
Do you think that the recruitment market might change in years to come?
The current initiatives put forth by the Ministry of Labour's Development Skill Department aims to prepare future technical graduates for industry 4.0. This includes establishing partnerships between universities and organisations for internship programs; as well as redesigning or introducing new Degree and Master courses. The desired outcome is a hope that Thailand will be able to curb the candidate shortage within a period of 5 years. I believe that this will impact the recruitment market positively down the road.
Have there been any interesting roles that you've filled recently?
One of the recent projects I embarked on was filling a Lead Quality Assurance position. After sourcing locally for 6 months, the client came to Michael Page for help. Since the client had already covered most of the local market, I extended the search internationally and was able to identify a Thai national who had been based in Australia for 10 years and was keen to return.
Not only did the candidate have the technical skillsets and critical Thai language capabilities, she also brought with her a different perspective and management style gained through her time working overseas. This set her apart from all other candidates and she was eventually offered the role.
Are there any advantages of hiring Thai professionals over expats? What would they be?
Building relationships, developing trust and understanding local nuances is essential for corporate success. Thai professionals understand these intricacies, and with the added advantage of speaking the local language, can ease into roles smoothly and gain buy-in from key stakeholders quickly. This is especially crucial at the middle to senior management level roles where the expectation of managers is to lead and coach local team members.
If you are an employer sourcing for specialised talent, Michael Page can partner with you to understand and fill these roles. Reach out to one of our recruitment consultants today to learn more about our solutions.